Here is another abstract from our 2012 trip to California. It is amazing how you walk right past, or step over some of the most interesting forms, textures, or shapes and never notice them. At least maybe consciously you do not notice their significance. You have to slow down, put your mind into slow motion, and take the time to look. Edward Weston said something to the effect that you should be able to look at your feet and find something to photograph.
This was our fourth day in Lone Pine and we had made several trips, at different times of the day, into the Alabama Hills to photograph. This day there were high clouds and there was a storm heading our way. It was one of those days where you had intermittent full sun. At times the high clouds acted as a giant soft box and made some things glow. This dead scrub brush was very near where we had parked and I had walked past it several times. Finally I could not resist any more. The light was just right and I had to set up the 8×10 camera and make a negative.
I can't say a lot about a subject that is this abstract. You really can't tell from the finished print direction, size, or exactly what you are looking upon. For me, that is a good definition for the term abstract. Take a look at the accompanying snapshots, which should help orient your view and maybe give a clue as to what was so intriguing about this little clump of dead brush. As I said, I really can't say much more about this image, except I really like the finished photograph.
JB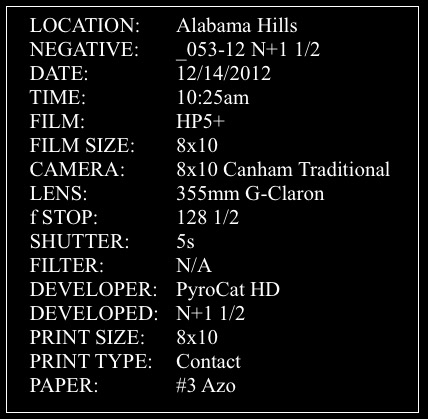 ---