Up for sale is a nice Zone VI American Black Walnut 4×5 Field Camera with Fujinon W 210mm f5.6 lens in Copal #1 shutter. This camera was purchased used some years back as a backup and has never been used by us. It was cleaned, lubed, waxed and put into storage, never being put into service. Here is the original Zone VI catalog listing for this camera;

"The Zone VI 4×5 Camera has many unique features: Its 18-inch extension and 22-inch bellows can handle, with full movements, lenses to 355mm. It allows greater than1:1 ratio with a 210mm lens for extreme close-ups. With the 120mm lens, you can get more than a 2:1 ratio. The bellows is removable. When the optional bag bellows is substituted, unlimited movements with lenses from 47mm to 165mm are available. There is a front shift movement – rare on field cameras – which is convenient for precise lateral framing. There are tilts from the base as well as through the lens axis; another unusual feature."
"As versatile in the studio as it is in the field, its range of movements exceeds the covering power of lenses designed for an 8×10! Front rise and fall, 3" travel. Front base tilt, 45° forward, 45° back. Front axis tilt, unlimited. Front swing, 17°. Note: a front drop (we have a 1 ½" drop) achieves the same result as a rear rise. The front shift achieves the same result as a back shift to the opposite side. The camera folded, measures 3 ¼' by 7 ¾" by 9 ½". It weighs six pounds. The 545 and 550 Polaroid backs, the Calumet and Sinar roll film backs, and the Kodak Readyload backs are accommodated."
The camera is in excellent condition, showing little signs of use. The gold plated hardware shows some normal wear, but all in all is in very good condition. All movements are tight and function smoothly. The only noticeable finish flaws are some marking on the bottom of the camera next to the tripod socket (see photos).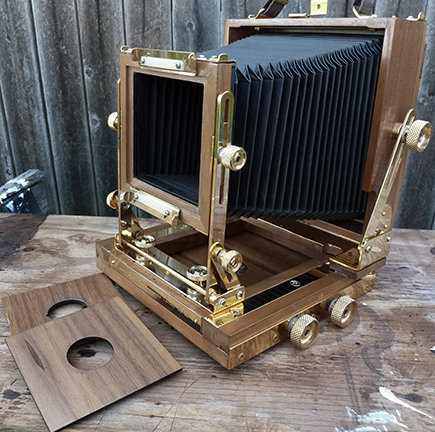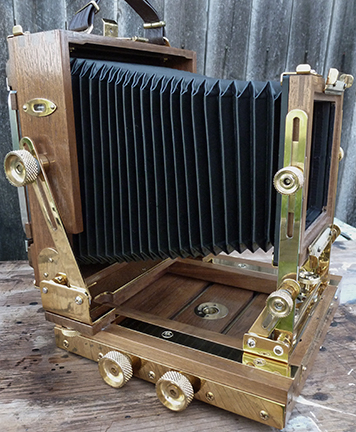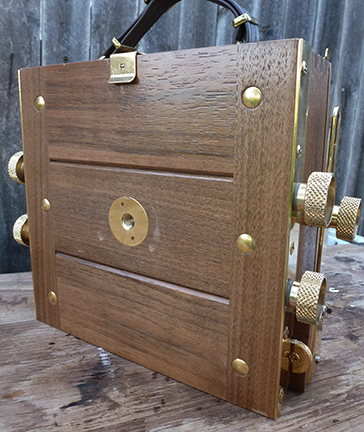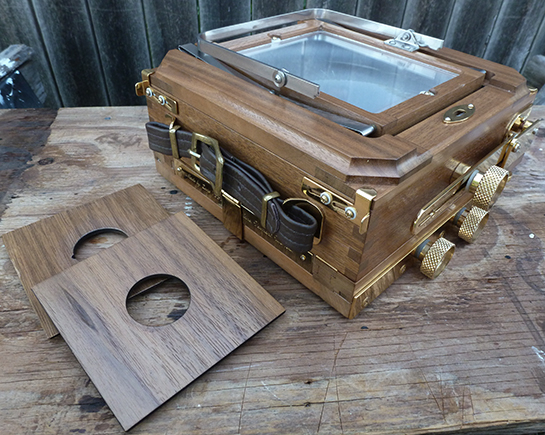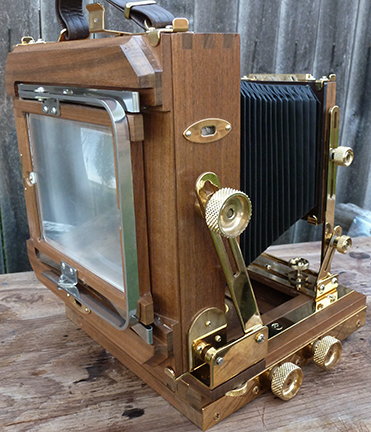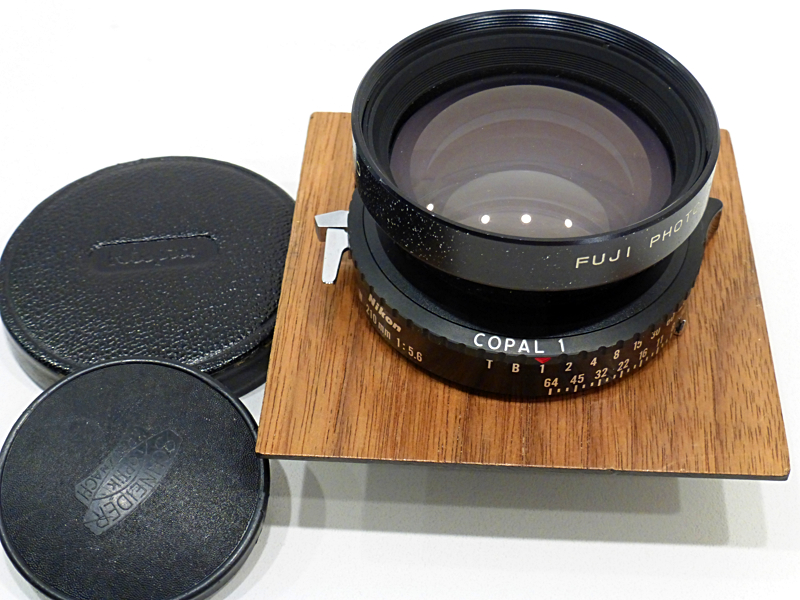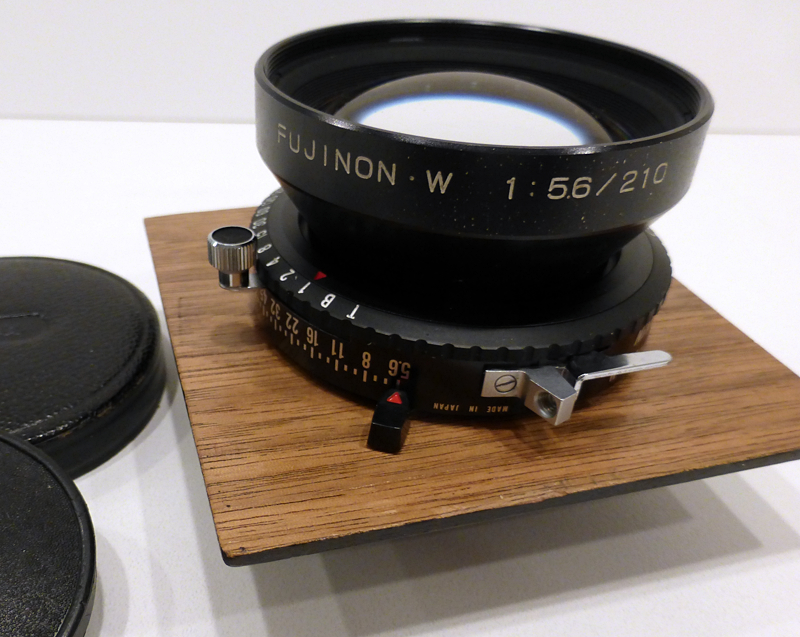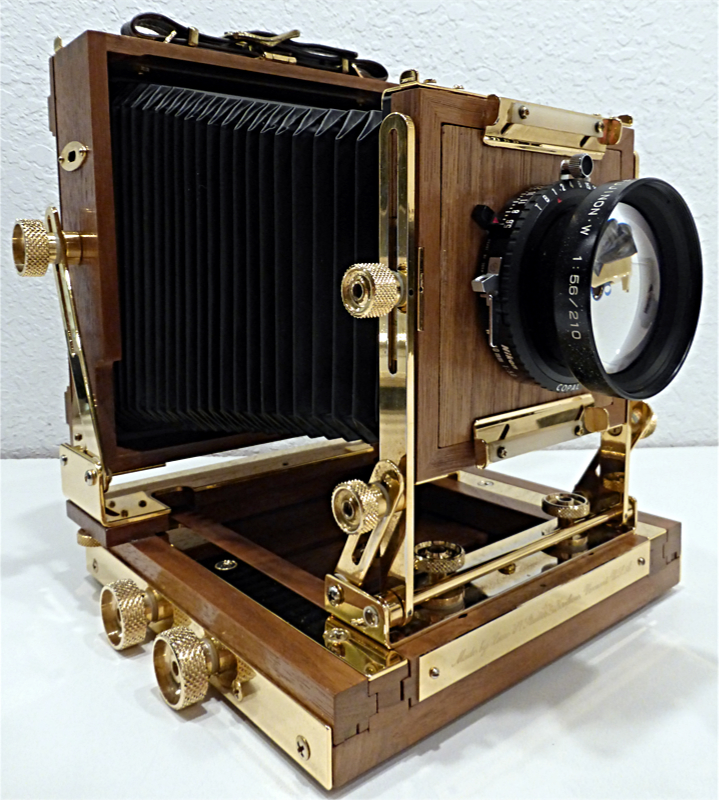 The camera is fitted with an original Zone VI Fresnel which has a few very light scratches. Also included is an additional black walnut lens board, drilled for a #0 Copal shutter.
Item sold AS IS. . .
NO RETURN. . .
NO REFUND. . .
$1,200.00
plus $45.00 FedEx Ground Insured Shipping

We also have a bag bellows for this camera.
Add $100.00

WE ONLY SHIP TO U.S. ADDRESSES
PAYMENT VIA PAYPAL PREFERRED
Thank you for your interest!
---